Dear Readers,
Thanks for visiting my website! Click on talk to me! to send me an email. Sign up to my mailing list to hear first about new releases. And be sure to check out my Facebook page and follow me on Twitter.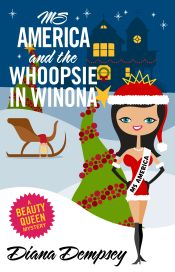 Ms America and the Whoopsie in Winona is out now! In the fourth Beauty Queen Mystery—the series that readers call "laugh-out-loud" funny and "superfab fun"—Happy Pennington and her beauty-queen BFFs Trixie Barnett and Shanelle Walker find themselves in snowy small-town Minnesota just weeks before Christmas.
Happy loves the holidays, but this year murder gets in the way of the tinsel and the candy canes …
It seemed so simple. All Happy had to do was cut the ribbon at a new big-box store. But instead it turns out that nothing, and no one, is what it seems. Society matrons worship Norse goddesses. Victorian mansions hide salacious secrets. And prominent families feud in the strangest ways. Maybe that's why Happy's host ends up dead.
Just in time, heartthrob Mario Suave swoops in to help Happy any way he can—especially under the mistletoe. That mystery, too, is Happy's to unwrap …
Click here to read the first chapter of Ms America and the Whoopsie in Winona. I hope you love it.
Have a wonderful Thanksgiving. I'm sure to, but I'm already looking forward to Christmas. ;-)
All best wishes. And keep reading!