Dear Readers,
Thanks for visiting my website! Click on talk to me! to send me an email. Sign up to my mailing list to hear first about new releases. And be sure to check out my author page on Facebook and follow me on Twitter.

I'm very excited that the Ring of Truth anthology is out. This trio of novellas has it all, in my opinion: romance, a magical Claddagh ring, and three heroines who discover that the road to true happiness begins with what lies in their own hearts. I've believed that for a long time …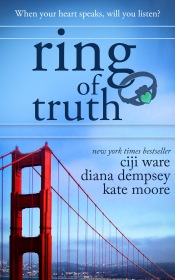 Here is what New York Times and USA Today bestselling author Jane Heller has to say about Ring of Truth: "What an ingenious, entertaining and utterly romantic anthology of novellas—a Sisterhood of the Traveling Pants for grownups. Ciji Ware, Diana Dempsey and Kate Moore have teamed up to spin tales of a beautiful Irish ring whose magical powers bring wisdom, truth and love to three different women at important crossroads in their lives. I only wish I were one of the ring's lucky recipients! A terrific read."

For all three of us authors, this project has been a labor of love. Let me tell you a bit about the individual novellas.

From New York Times and USA Today bestselling author Ciji Ware: "The Ring of Kerry Hannigan"

On the eve of a move from New York to San Francisco, classically trained chef and respected food blogger Kerry Hannigan's world turns upside down the instant she puts on an Irish Claddagh ring rescued from the rubble of 9/11. A gift from her godmother, the emerald gemstone reputedly offers life-changing guidance and counsel—but only for seven days, and only to those who listen.

From Readers' Crown winner and three-time RITA finalist Kate Moore: "Once Upon a Ring"

Boutique hotel concierge Tara Keegan finds the perfect way to deal with the woes of modern dating—invent a boyfriend. As long as Tara clings to her Mr. Wright, she can't take the first real step toward happiness—opening her heart. It takes the Ring of Truth on Tara's finger to discover that she wants more than fiction. Now her heart prompts her to risk all and tell the humiliating truth to a man who's suddenly very present in her life.

And from me: "A Diva Wears the Ring"

Veronica Ballard, adopted from Russia at birth, sings opera and longs to understand where she comes from. One fateful day, she receives both a life-changing letter and the Ring of Truth, and embarks on a journey to answer her heart's deepest questions. Little does she know her quest will lead to love.

I'm thrilled finally to have written a story about adoption, which I have long wanted to do. Two of my nieces were adopted from the former Soviet Union. They have grown into wonderful young women, and I can't imagine our family without them.

I very much hope you enjoy Ring of Truth. As always, I'm keen to hear what you think. In the meanwhile, I'll be scribbling away on my next Ms America mystery. You'll be hearing more and more about that over the next months until its release.

Enjoy all the pleasures of autumn. And keep reading!